Restaurant Photography 101 For Busy Restaurant Owners
If you're a busy restaurant owner or manager, you probably don't have time to set up a professional photoshoot monthly, or the time to learn how to take professional photos with a normal camera. That is why we made a free Restaurant Photography 101 Webinar to discuss easy ways to take professional photos with your smartphone to use across your social media, email, and website.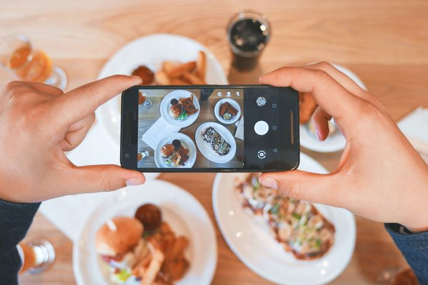 So, why are photos incredibly important for your restaurant? There are many reasons, but most importantly they create a lasting first impression and help to initiate an action. Adding photos alone to your website and social media posts can increase your sales by as much as 30%.
Let's get down to the nuts and bolts of taking a good photo using your smartphone:

Lighting
Food photos should look fresh, tasty, and appealing to lure potential customers into your restaurant. Some easy lighting options include natural lighting and artificial lighting. With natural light, there is direct light and diffused light. Which one you use is your preference. Direct lighting is more intense producing high contrast photos, while diffused lighting creates a softer low contrast look that allows the shadows to be more minimal than with direct lighting. We recommend using natural lighting because it requires less editing and filters. Let the light work for you. During the morning you will get more blue tones, while in the afternoon it will turn more golden. On the other hand, artificial lighting can be staged and used at any time of the day. It only requires an additional light source to get the look and feel you're desiring. Not to worry, most smartphones have built-in light correcting and editing abilities to make taking pictures from your phone as simple as point and click.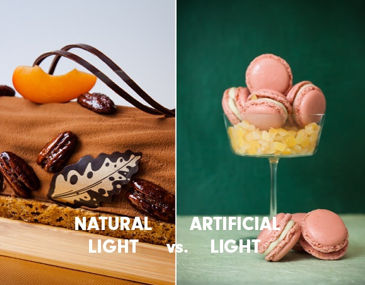 Angles
Smartphones have evolved over the years to allow you to take wide-angle shots to allow you to get close to your food without losing the detail of your food. Some shooting options are overhead to capture the whole scene plus the size and shape, or a straight-on angle shot that allows you to get closer to the dish and display the details and height of the dish. The most common angle is the 25-75 degree angle. It is used for commercial photography and allows the customer to see the food item as it will be presented in the restaurant. All angles are equally beneficial. It really depends on what you would like to highlight.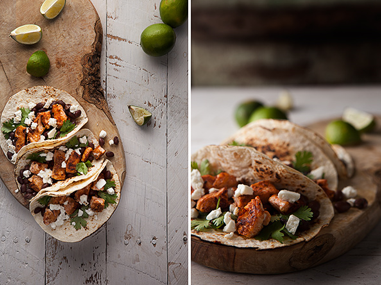 Background
One of the most over-looked aspects of food photography is the background. Check your background and try to support your photo subject, not distract from it. Too many props can lead to distraction. If there is a busy background, try to use portrait mode on your phone to focus on the food and to blur the background, so it doesn't distract the eye.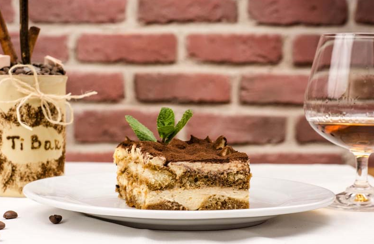 Some good props to help set the scene can be branded items (napkins, cups, and menus), ingredients, complimenting beverages or sides, and more. Just remember that the food is the star!
Don't zoom. Get closer.
Move in close to fill the frame instead of zooming in to avoid reducing the quality of the image. Your phone will allow you to crop it later. There are many free and easy photo editing apps if you're not happy with your photo. Most smartphones, as mentioned before, have built-in editing capabilities, but if you prefer more editing Lightroom Mobile, Canva, and Instasize are fantastic options for you.

Food Styling
When styling a photo remember that the food is the star by using the "3Cs" - Cohesion (coffee, cake, and a garnishment pairing), complement (use appropriate ingredients to enhance the scene), and compete (make sure your food gets the most attention in the photo). Make sure your food isn't competing with the background.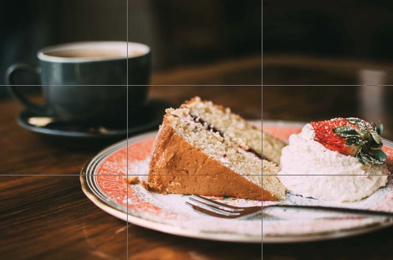 What photos to take?
The main photos to take are of your dishes, sides, desserts, and drinks, incorporating the tips from above. Other fun photos are weekly specials. You can even take pics of your weekly special boards to create an atmosphere. Take photos of specialty Items, the interior capturing the atmosphere of the space, the staff in action or posed, the to-go orders, and the merchandise. Get creative!
Still feel overwhelmed? We've got you covered.
Spillover offers a professional photoshoot service that includes:
2-hour photoshoot on location
Photos of food and drink items, interior/exterior, staff, to go options if applicable and merchandise
2-week turnaround for photos
High Resolution Photos hosted for you in an online digital gallery
For more information on Spillover or to book your professional photoshoot, reach out here.